The Boss
© Bernita Gorenflo
Story of The Boss
One of my favorite animals. My close up of a buffalo, looking into the eye to see the soul of this great, majestic creature. Tatanka, sacred to the Native Indians.
Look closely on his head, there is an Indian Dancer, and there is a horse's head, the face of an Indian, as well as a lion face on his cheekbone, and an "Evil Eye" on edge up right side of his head, in yellow. The Spirits come alive in my buffalos.
It took me many, many hours on different days to paint 'The Boss'. I also worked on this painting in Houston while the rains of Hurricane Harvey fell for days. It helped to occupy my worried mind as devestation happened all around us to Family and Friends! We were fine and never lost our lights - so I could paint!
Available on canvas or watercolor paper. What a beautiful addition to a home, office, or above a fireplace!
Featured in July 2019 "Cowboys and Indians Magazine"
Watercolor, 23" x 21"
Framed is 37" x 35"
Framed in 'Larson Juhl'
Limited Edition Giclée Prints Available
Ten Large Canvas, Limited Editions and Smaller Prints Available as Well
Contact Bernita for Pricing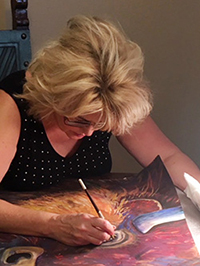 Artist Bernita Gorenflo painting The Boss.